All the standard citation rules
Search cite-builder for the citation rule you need
Ability to store and use your own template rules
Import and export your templates so you can share with fellow genealogists
Opt-in to join our mailing list to receive news about updates and special offers
No Ads 🙂

Welcome to Cite-Builder

Overview of Premium Features
We are constantly adding more source types and citation styles. There are so many to consider, so if you see something missing you need please email us using the address on the Contact us page.

Also please go to our Facebook page and click Like and Follow to receive ongoing updates about this site.

If you would like to donate towards the running costs of this site, please do so by clicking one of the buttons below:
Citing your sources is important, but it is also difficult and time consuming. This website aims to make the process easier for you, by asking you the relevant bits of information for the source type, and then presenting the results to you in whatever format you select.
Why cite your sources? And why is it important to do it correctly?
To enable others to find the information themselves
To allow you to find the information again yourself
To identify the likely reliability of the source
To help you and others reach the most likely and reliable conclusions
To give credit to the work of others
To help others build on your work
If you just record "Birth certificate of John Smith", how will you know WHICH of the many birth certificates for a person named John Smith you looked at?
V2.01
ADVERTISMENT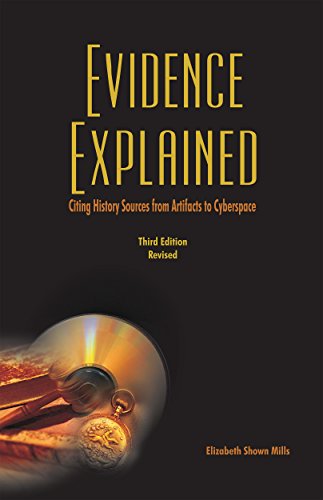 Evidence Explained: Citing History Sources from Artifacts to Cyberspace: 3rd edition revised
Buy on Amazon.com